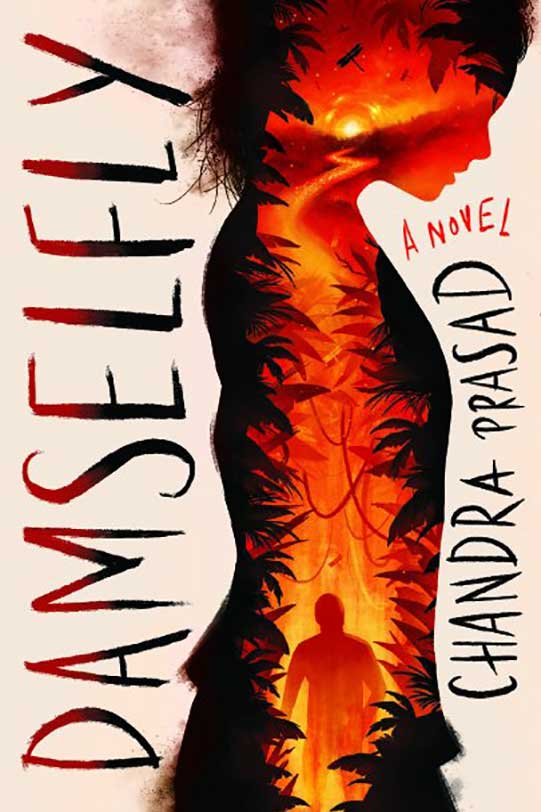 Damselfly, a new young adult novel published by Scholastic, is –
• An adventure story that captures and holds the attention of even reluctant readers,
• A highly relatable coming-of-age tale,
• A classroom read that serves as a "linked" or "parallel" text with Lord of the Flies.
"Prasad breathes fresh life into this fusion of Lost, Prep, Gossip Girl, and William Golding's classic."
"Who are we when we are only accountable to ourselves? This bold, deft novel exposes how fragile the world we inhabit really is and what it might take for us to survive."
"Chandra Prasad gives us a terrifying, modern-day Lord of the Flies, rendered in exquisite and exacting prose. A brave take on teen cruelty, identity, mixed race experience, class, and survival."
"If Lord of the Flies met Gossip Girl and spawned a first-rate book, filled with adventure and moving, surprising struggles against Nature and our nature, Damselfly would be it."
Their survival is in their own hands…
Samantha Mishra opens her eyes and discovers she's alone and injured in the thick of a jungle. She has no idea where she is, or what happened to the plane taking her and the rest of the Drake Rosemont fencing team across the Pacific for a tournament. Once Sam connects with her best friend, Mel, and they find the others, they set up shelter and hope for rescue. But as the days pass, the teens realize they're on their own, stranded on an island with a mysterious presence that taunts and threatens them. Soon Sam and her companions discover they need to survive more than the jungle… they need to survive each other.This taut novel, with a setting evocative of Lord of the Flies, is by turns cinematic and intimate, and always thought-provoking.
Damselfly is available from the retailers below and wherever fine books are sold.
Edgy and fast-paced, Damselfly explores the human condition by following a diverse group of American teenagers stranded on an uninhabited island. Packed with allegory, symbolism, and classic themes, Damselfly can be read alone or as a linked text with Lord of the Flies. Either way, it is sure to encourage literary exploration and debate, especially among Young Adult readers.
Anamika Bhatnagar, Associate Publisher of Graphix and Pilkey Publishing at Scholastic, discusses Damselfly.